St Mary's Roman Catholic Church – Abertillery.
The Roman Catholics in the area first made efforts to promote the Roman Catholic religion to the population of Abertillery in 1875. The main promoters at Abertillery were Mrs W. H. Brewer and Miss Brewer. It was reported that Abertillery was to be the leading Catholic village in the district.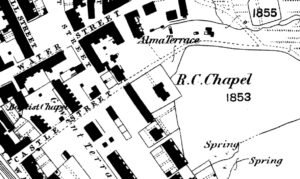 The Roman Catholic Church Construction.
On Monday 5th October 1875 Bishop Headley laid the Foundation Stone of the Roman Catholic School and Chapel at Abertillery, situated on Castle Street (as seen centre on the map left) later Castle Street was renamed Hill Street, Abertillery.

There were no proper reports of it official opening in any known newspaper and very little information on the Catholic Church thereafter.
In September 1899 the Catholic Committee applied to have a boundary wall erected around the church.
Rev Father De Hulst.
In the early 1900's Rev Father De Hulst was the preacher at the church.
Rev Father O'Donoghue.
In 1908 the preacher was Rev Father O'Donoghue.
Rev Father Garrett.
In the 1920s Rev Father Garrett came to Abertillery and was preaching at the Catholic Church.
Rev Father Lawrence Blanderfield.
In January 1923 major alterations took place at the Catholic Church and Father Garrett left for a while. The Rev Father Lawrence Blanderfield O.S.F.C., of California U.S.A. took his place. Rev Blanderfield was originally from Aberbeeg and was the son of Mr Charles Blanderfield of the G.W.R. Railway Company at Aberbeeg.
The Church Alterations and First In-Patient at Aberbeeg Hospital.
On Monday 8th January 1923 during the alterations at the Catholic Church, the builder Mr Stephen Albert Williams of 80 Carlyle Street, Abertillery was struck by a scaffold pole which was being lowered to the ground and was taken to receive medical treatment. As a result of his injuries Mr Williams was the first patient to be treated at the newly built hospital at Aberbeeg.
In March 1923 the Catholic Church was re-opened after the extensive alterations.
In late 1923 Rev Garrett returned to Abertillery and replaced Rev Blanderfield.
Rev Father Timothy F. Williams.
In the late 1920's Father Garrett once again left Abertillery and was replaced by Rev Father Timothy F. Williams.
Rev Father M. Maloney.
In the early 1930's Rev Father M. Maloney came to Abertillery and became the preacher of both the St Mary's Catholic Church Abertillery and St David's Catholic Church at Llanhilleth.
The St Mary's Catholic Church at Abertillery is still open to this day and holds regular services.