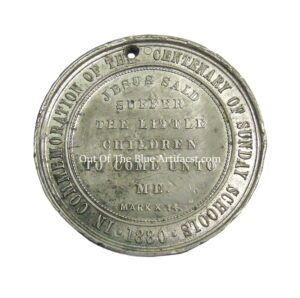 Sunday School Centenary Medallion – English Baptist Chapel Abertillery.
This medallion was given to commemorate the Baptist Sunday School Centenary 1780-1880. It is from the English Baptist Chapel, Abertillery. 
Made from a white-metal alloy. Size of the display is 3″ x 2″ inches – The medal size is 1 and 1/2″ inches in diameter.
(Information to come).