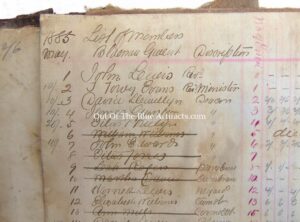 The Blaenau Gwent Baptist Church – Members Ledger 1885-1920.
This members ledger has 196 pages containing hundreds of names and addresses of the members of the Blaenau Gwent Baptist Church between the years of 1885 and 1920. It also contains the subscriptions paid by each individual. Also listed are the individual Baptisms, who they were performed on and the dates each took place.
The Districts Covered.
No1 Cwmtillery. No2 Newtown (Blaenau Gwent area) 1, 2 and 3. No3 Newtown (Blaenau Gwent area) 4 and 5. No4 Blaenau Gwent. No5 Kings Head. No6 Brynteg. No7 Penybont and No8 Abertillery.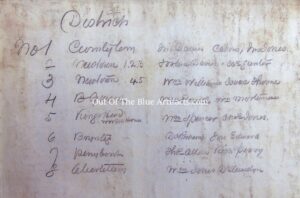 The register of names, addresses and subscriptions begins on page 2. The Reverend John Lewis is listed as No1 though he had resigned from the pastorate a few years previous. The Reverend Thomas Towy Evans was listed as being No2 who had taken over the pastorate at Blaenau Gwent in 1882, taking over from Rev J. Lewis.
Rev John Lewis.
The Rev John Lewis was from Brynmelyn, after being called to Blaenau Gwent in 1837 he took up residence in the Manse Tyr-Bryn. He saw himself as an overseer of Gods creations, he awoke each morning at 4.00am to offer his mornings spiritual sacrifices like the priests in ancient temples. The first Baptised by him were Mr Benjamin Williams and Miss Margaret Samuel, a sister of Mr Daniel Samuel, Mr Enoch Rogers was mentioned as being part of the chapel at this period in time. Rev Lewis was reported to not have missed a prayer meeting anywhere from Crumlin, Blaenavon, Cwm and Nantyglo. He said "To lose a meeting was to lose a blessing".
Rev T. Towy Evans.
In 1882 the pastorate of Blaenau Gwent Chapel was given to Mr Thomas Towy Evans, he took up residence at the Manse, Tyr Bryn. From the start he worked untiringly and to great effect. He saw a chapel that was in need of change as until 1882 all services at the chapel were conducted in the Welsh language but Mr Evans wanted to phase it out and gradually change the language from Welsh to English to accommodate the increasing English speaking population that came to the district to work in the many coalmines. His tact, patience and determination overcame the difficulties of this controversial change and in 1903 all services were conducted entirely in English. After this transition the chapel membership rose from 150 to nearly 600.
In 1885 (the year of this ledger) increased accommodation to the chapel was added and a larger schoolroom was erected.
If anyone requires any information for family research etc please ask.