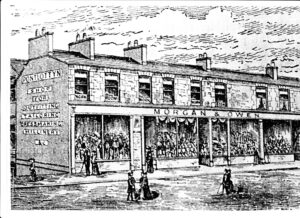 The Old Pontlottyn Store.
The Pontlottyn Store, Abertillery was originally set up by Mr David Morgan in 1870.
Mr David Morgan.
Mr Morgan (1833-1919) was born at Caecrwn, Battle, Breconshire. He opened his first Drapery shops in Rhymney and Pontlottyn in the 1850s at the age of 23 and at Abertillery in 1870. In October 1879 he opened a store in the Hayes, Cardiff, as Messrs Morgan & Co.
Messrs Morgan & Owen.
In 1883 Mr Morgan entered into a business partnership with Mr John Owen. Mr Owen was a native of Pontlottyn, Rhymney, born in 1860s he came to Abertillery as a young boy. Later he did an apprenticeship with Mr Morgan and trained at the Cardiff store, he was later entrusted to be part of his business at Abertillery. They traded in Abertillery as Messrs Morgan & Owen.
In 1885 the head Tailor in the Pontlottyn Store was Mr William Lewis, Mr Lewis was born at Brechfa, Carmarthenshire in 1852. He trained for his trade in England and came to Abertillery in 1885. He later left to open his own business at Market Street and later at Church Street.
In 1890 Mr John Owen acquired the Pontlottyn Store entirely and carried on the flourishing trade in the town.  In January 1893 he fell ill and the business at the Pontlottyn Store began to suffer.
Messrs John Llewellyn Morgan and Benjamin Francis.
In May 1893 Mr John Owen sadly passed away at the age of just 33 years of age, the Pontlottyn Store was taken over by Mr John Llewellyn Morgan (son of Mr David Morgan the original store owner) and Mr Benjamin Francis. They ran the Abertillery store as Messrs Morgan & Francis.
Mr Benjamin Francis born in Clydey, Pembrokeshire in 1867, he left school and went into teaching. He later left that profession and went into business as an apprentice of Mr Elias Thomas a Draper of Newcastle Emlyn. After leaving Mr Thomas Mr Francis entered into the employ of Mr Morgan & Co the well known Drapers of the Hayes, Cardiff. It was here that he met Mr John Llewellyn Morgan and their partnership started.  
In 1897 as the town grew the proprietors of the Pontlottyn Store – Messrs Morgan & Francis decided to have their old premises demolished and to have a much larger store built with extensions each side to keep up with the demand for goods.
In 1897 work started on the new building.