Nantyglo Iron and Coal Works History.
I understand a lot of books, other articles and web pages have been written on the exploits of the Bailey Brothers and the alleged tyranny of Mr Crawshay Bailey, though this is just a brief non-judgemental timeline with a few previously unknown, details on Crawshay and Joseph Bailey and their life and times at Nantyglo, whether it be good or bad, I am only relating what was reported about them at the time from old newspaper reports and other official documentation, also the history of Nantyglo House. (all information as been collected from newspapers and other documentation, non of what I have written is from any other websites, it's all from original sources)
The Bailey Brothers.
Mr Joseph Bailey born 1783 and his younger brother Mr Crawshay Bailey born October 1789 in the North of England were brought to this neighbourhood by their uncle the Ironmaster Mr Richard Crawshay when they were children and lived at Cyfarthfa in Merthyr.  On the death of their uncle Mr Richard Crawshay in 1810, Mr Joseph Bailey was left a large amount of money, (there was no mention in the report of his brother Mr Crawshay Bailey receiving any legacy) In the following few years all reports were of just Mr Joseph Bailey.
In 1810 Mr Joseph Bailey went into partnership at Cyfarthfa with his cousin Mr William Crawshay and his second cousin Mr Benjamin Hall, this partnership lasted until October 1812 and officially dissolved on November 30th 1812, Mr Joseph Bailey sold his share to Mr William Crawshay. Mr Bailey was also in a partnership with Messrs Wayne and Williams under the name of William Williams & Co at Nantyglo.

The Nantyglo Iron Works.
There is a consensus that the Nantyglo Iron Works were established on a small scale in the late 1790's by Harford, Hill & Co. The Nantyglo Iron Works were left idle and later leased by Mr Matthew Wayne, Mr Wayne, being recognised as one of the founders, who later went into partnership with Mr Joseph Bailey.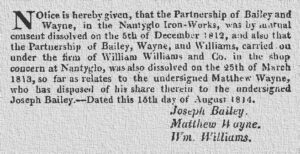 Messrs Williams, Wayne and Bailey.
Mr Joseph Bailey was in partnership with Mr Matthew Wayne and Mr William Williams, who owned the Company Shop at Nantyglo and purchased the lease on the Nantyglo Iron Works which at the time was small scale and had been idle for many years.
The partnerships of Messrs Wayne, Bailey and Williams was gradually dissolved over a period of years between 1812 and 1814.
In 1814 Mr Matthew Wayne disposed of his share in the Nantyglo Iron Works to Mr Joseph Bailey and Mr Crawshay Bailey took Mr Waynes place within the partnership. Mr Joseph Bailey in conjunction with his brother Crawshay carried on the works as Messrs J. & C. Bailey, they expanded, enlarged the Nantyglo Iron Works and made it one of the most well known and famous works in the world, also leasing and buying vast swathes of land and mineral rights from Nantyglo to Aberbeeg.
The Bailey Brothers.
At their Nantyglo works, Mr Crawshay Bailey was in charge of the coal mining part of their partnership empire and Mr Joseph Bailey the above ground and iron workings. The Nantyglo Iron Works were located on the site of the now demolished Nantyglo Comprehensive School. Apart from the vast iron works there was also coal mines, a large reservoir, offices, company stores and shops and other major infrastructure etc.
Nantyglo House.
Following is a Link to – The History of Nantyglo House.
Bailey's Tramway.
In 1821 the Bailey brothers paid for the construction of a tramway known as "Bailey's Tramway" from Nantyglo to the Brecon Canal then onto Newport in order to avoid paying the high tolls exacted by the Monmouthshire Canal Company.
The Beaufort Iron Works.
In about 1833 the brothers purchased the Beaufort Iron Works and they worked them with the Nantyglo Works which were both worked until 1871.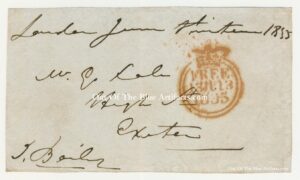 Mr Joseph Bailey M.P.
In 1835 Mr Joseph Bailey was elected to parliament for Worcester (as seen right, a part of my collection) is an image of his signature on a Parliamentary Free Front, dated July 1835.
The Mining and Trading Company.
In 1836 Mr Crawshay Bailey was involved in a mining and trading company along with Samuel Homfray, Mr R. J. Blewitt, Mr Brewer and Mr T. Protheroe.
Iron Production 1838.
In a report published in the Railway Magazine in June 1838, it states the following – In Great Britain there are 239 furnaces in blast; 14 out of blast; 31 in course of building; with 83 being contemplated. The annual produce of iron is 1,008,280 ton. The weekly produce 19,390 tons of iron and 9000 tons of bar iron. To produce this quantity, 3,000,000 tons of coal are required and the labour of 40,000 persons. The most extensive manufacturing firms are at this time are – Messrs J. & C. Bailey and Messrs Guest, Lewis & Co. These works produce more than one-quarter of the whole amount of iron manufactured in the Empire and nearly one-half of the whole amount of bar iron produced. Messrs J. & C. Bailey alone manufactured 83,000 tons of iron and 40,000 tons of bar iron being one twelfth of the whole quantity of the former and one tenth of the latter.
Glanbane Estate.
In October 1839 Mr Crawshay Bailey purchased the Glanbane Estate, Llandovery. It was over 10,000 acres of freehold land containing 57 freehold farms and a seat in the House of Commons. Its former owner was Mr Lewis Loyd the eminent London Banker, though owing to a slight technicality in the title he no longer wanted the property and had sold it to Mr Crawshay Bailey for the sum of 80,000 guineas, equivalent to £8,904,000,00 nearly 9 million pounds in today's money.
The Monmouthshire Agricultural and Commercial Bank.
Sometime in the late 1830's to early 1840's Messrs J. and C. Bailey, Mr Thomas Greatrex and Mr William Williams opened their own bank, called the Monmouthshire Agricultural and Commercial Bank.
In August 1844 Her Majesty's Commissioners of Stamps and Taxes ascertained the number of bank notes in circulation at the Bailey's bank during the 12 week period preceding April 1844 was £29,335.00 approximately 1.25 million pounds in today's money.
The Construction of the Southern Railway Line and Tunnel.
In 1842 Crawshay Bailey had plans drawn up by the surveyor Mr Morris and the Civil Engineers  Hodgkinson & Marsh for a possible construction of a railway from Newport to Nantyglo which would come to Pontypool and then onto Cwmcelyn, Blaina via a series of tunnels driven through the mountains at  Llanhilleth, Varteg to Cwmtillery and through the Mynydd James to Blaina and up to Nantyglo. It was only to be a single track and was deemed to be too expensive.
The Aberaman Iron Works.
Sometime in the late 1840's the brothers purchased the Aberaman Iron Works in Glamorganshire and resided there until the mid 1850's. After the death of Joseph Bailey in 1858 Crawshay carried on the works at Aberaman but later sold them to the Powell Duffryn Company and he came back to live at Nantyglo and Llanfoist.
Messrs Bailey, Bailey and Pegg.
In the 1840's Crawshay Bailey was in partnership with Mr William Bailey and Mr Samuel Pegg and had a business at Bankside, Southwalk, Surrey as Iron Merchants.
The Dean Forest, Monmouth, Usk and Pontypool Railway Company.
In 1852 Mr Crawshay Bailey was on the Committee of the Dean Forest, Monmouth, Usk and Pontypool Railway Company and was also their banker.
The Monmouthshire Wagon Company.
In 1853 Crawshay Bailey set up and became the chairman of the Monmouthshire Wagon Company, it constructed and leased coal railway wagons to companies for their personal coal transportation to the docks. Messrs Bailey, Greatrex and Williams were also the bankers for the company. It was stated that Mr Crawshay Bailey lived in Aberaman House, Glamorganshire at this time.
The Abertillery British School.
In 1854 the brothers donated land upon which the Abertillery British School was built.
The Newport Steam Towing Company.
In 1856 Mr Crawshay Bailey and Mr Thomas Greatrex were bankers to the Newport Steam Towing Company, with the directors being Mr James Brown, Mr John Russell.
The Merthyr and Abergavenny Railway Co.
In 1858 Mr Crawshay Bailey was a director of the Merthyr and Abergavenny Railway Co. Also he gave notice that he was extending his Nantyglo line and erecting a station at Coalbrookvale.
The United States and Liverpool.
At some point Mr Crawshay Bailey had a large stake in the railway companies of the United States of America and was a major exporter of rails to the states, he exported them to the U.S.A. from the Nantyglo Works via Liverpool and had erected a large depot in connection with the London and North Western Railway near the docks at Liverpool for this purpose. Mr R. W. Kennard (father of Mr T. W. Kennard – Crumlin Viaduct builder) was vice-chairman of the South Wales Colliery Company next to the chairman Mr Crawshay Bailey. Mr R. W. Kennard's son Thomas William Kennard was in the U.S.A. at this time laying out the Atlantic and Great Western Railway as the engineer-in-chief.
The Death of Mr Joseph Bailey.
Mr Joseph Bailey sadly died in November 1858.
Mr Joseph Bailey's will was proven in London by Mr John Crawshay Bailey (son). Mr Alexander Young Spearman (son-in-law) and Mr Crawshay Bailey (brother) were the executors. The will was reported to have been very long, 222 folios and dated the 21st February 1856. The will was sworn at under £600,000, equivalent to £64,800,000,00 in today's money, nearly 65 million pounds.
He bequeathed £500 to the Infirmary at Brecon. An annuity of £20 to the poor of that parish and £10 to the poor of each of the several parishes and villages adjoining. He made ample provisions for his family and widow and children of his eldest son, also £3000 to Lady Bailey.
The South Wales Colliery Company.
In 1864 Mr Crawshay Bailey helped set up the South Wales Colliery Company and was their first chairman (This company was set up to purchase the Cwmtillery Colliery after Mr John Russell had put the colliery up for sale for the sum of £66,000). Mr Thomas Brown, the colliery's previous owner and founder urged Mr Crawshay Bailey to form the new company in order to raise the funds needed to purchase the Cwmtillery Colliery. The £66,000 is the equivalent to £7,920,000,00 nearly 8 million in today's money. It was however reported that the South Wales Colliery Company had later purchased the colliery for an undisclosed amount.
The Golynos and Pentwyn Works.
Mr Crawshay Bailey was also the proprietor of the Golynos and Pentwyn Works and was connected with many other companies.
During 1866 there was a commercial crisis which seriously affected Mr Bailey, a friend recalled how Mr Crawshay Bailey was counselled by other members of the company to shut up the works, to which he replied "No not as long as I live, the poor men shall be kept on". It was also reported that he always enquired upon the health of the pensioners until the time of his death.
Mr Crawshay Bailey was on the board of many different enterprises, including The South Wales Colliery Co, and was a large shareholder in the old Newport Dock Company and the new Alexandra Docks.
The Death of Mrs Bailey.
Mrs Bailey sadly died in October 1865, later Crawshay Bailey removed to Llanfoist.
The Abergavenny Town Hall Clock.
In 1872 Mr Crawshay Bailey paid for a clock to be placed in the tower of the Abergavenny Town Hall.
The Death of Mr Crawshay Bailey.
Mr Crawshay Bailey sadly died in January 1872 at his residence Llanfoist House and buried in the family vaults at Llanfoist on Tuesday 16th January 1872. His will was released in the following March in which was said to be sworn under £160,000, equivalent to £17,920,000,00 in today's money, nearly 18 million pounds.
The trustees and executors were Mr Crawshay Bailey Jnr, (son); Mr William Bailey Partridge, (great nephew); and Mr John Berry Walford. In his will he granted to his nephew Mr John Crawshay Bailey, the son of Joseph, £4,000. He left annuities to his 3 great-nieces, many legacies to other relatives and friends, annuities to his housekeeper, butler and nurse and legacies to his other servants. He left the interest of £15,000 to his daughter Jane, for life and after her decease to her children.
He disposed of his interests in the Ironworks at Monmouth and Brecon and his business in Liverpool. All his shares as Ironmaster and Iron Merchant carried on at Nantyglo and Beaufort under the name of J. & C. Bailey and at Liverpool under the name of the Bailey Brothers and Co, left to his two nephews – Mr William Latham Bailey and Mr Henry Bailey in equal shares. He left the Varteg Iron Works and mines of coal, iron and other minerals to his great nephew Mr William Bailey Partridge (of the Partridge Jones & Co). His estates in the counties of Monmouth, Glamorgan, Carmarthen, Brecknock, Hereford, Surrey, Essex and Middlesex to his son Crawshay Bailey Jnr of Maindiff Court, Abergavenny whom he appointed residuary legatee.
This is on-going as I receive more information I will upload it.