Blaenau Gwent Baptist Movement, Chapel and Schoolroom.
Blaenau Gwent goes far back in the history of our country of Gwent. Gwlad Gwent used to include the counties of Monmouthshire, Hereford and Gloucester. The centre of this region was the fortified city of Caerwent (Caer Gwent) this city gave its name to the county around it. As the people of Gwent were systematically conquered, its name became more limited, so that later the county of Monmouthshire became divided into upper and lower Gwent, the low land and hill country of Gwent.
These were troubled times after the fall-out between the church and the Pope, it was reported that the Baptists had fought with the Protestants against the Pope and with the Puritans against the Royalists, with the early Presbyterians, Quakers and Congregationalists against the King being the head of the church, and in favour of liberty of conscience. Although they were Protestants, Puritans, Dissenters and Nonconformists, they were all Baptists, there were cruel laws against them on the continent and even in Britain they were the special objects of the hatred of Henry VIII.
Mr John Penry a noble apostle and martyr of Wales, a native of Brecon was a Baptist. He preached and held baptisms at and near Olchon, Pontrilas. It was said he was the first to preach openly and publicly to his countrymen after the reformation. It was also said he was the first that administered that ordinance by immersion upon a profession of faith. Mr John Penry was hung like a criminal on May 29th 1593.
In 1611 a "Baptists Confession of Faith" was printed and in 1618 the "Book of Sports" was published and ordered to be read in all churches, this drove Mr Walter Bradoc, Mr William Orbury and Mr William Wroth of Llanvaches from the church and they went out preaching and establishing Nonconformist churches. In 1639 the church at Llanvaches was formed and there were many Baptists in this church.
In 1641 the House of Commons helped in the evangelization of Wales, in 1649 it appointed several itinerant preachers and many of these were Baptists.
Mr Edmund Jones wrote that during the commonwealth many eminent men used to preach at Blaenau Gwent and named the following – Mr Jenkin Jones; Mr Morgan Lloyd; Mr Walter Cradoc and Mr Vivasor Powell: Probably Mr Vivasor Powell was the most enthusiastic and had suffered more from persecution and imprisonment than most. Through all this it was said that Mr Powell had formed as many as 20 Baptist Churches. There was a close connection between Blaenau Gwent and Olchon and was stated that there was a church there from 1633.
Blaenau Gwent Baptist Movement.
The Baptist movement inception in Blaenau Gwent dates back to the early part of the 17th century and in 1649 a small band of Baptists and Independents commenced worshipping in Gelli Grug. The Farm House was tenanted by Ioan ap Ioan. (It was stated that the old Farm House was on the site that Mr William Stewart J.P. and mining engineer, manager of the Penybont Tillery Colliery, later had a house built – Mr Stewart lived at Duffryn House, Gelli Grug).  At this time it was a mixed church and Rev Ambrose Mostyn and Rev Walter Jones had an influence in the movement at Gelli Grug. Rev Ambrose Mostyn from North Wales had visited Blaina to preach though had a very hostile reception from the locals, he was dejected and had to try and convene the meeting in a field close by, the people mocked and threw dead hedgehogs at him which had been hanging up in the Yew trees on the western side of the valley. Mr Mostyn fled Blaina and went to Gelli Grug.
In 1660 King Charles II came to the throne and one of the first things he did was to restore the clergy but there was one clause in that Act which prevented Baptists from participating in its benefits. During the reigns of Charles II and James II the Baptist Church passed through many a dark day. Under the Act of Uniformity, Five Mile Act, Corporation Act and Conventicle Act they often had to meet by night or early morning, on mountain tops or even in caves, anywhere and everywhere where they were concealed from their persecutors. Mr William Pritchard of Llanwenarth and Mr Lewis Thomas did much service to the church during this period.
In 1660 Rev Lewis Thomas of Swansea came to preach them and through his influence that the Baptists decided to separate themselves from the Independents. After this separation the Baptists worshipped wherever they could, mostly in the home of Mrs Nest Llewellyn (on the bank of the Cwmtillery Reservoir as seen in the featured image above) and also Nest Prosser. Mrs Nest Lewellyn was the daughter of Nest Prosser and was seen as a heroine of the period, she suffered much persecution, it was noted that she was the real founder of the Baptist movement in the district and was possibly the starting point of the chapel. After the death of Mrs Nest Llewellyn the meetings were held at the home of Mr Watcin Harri. Mr Harri was said to be one of the noblest and holiest men of the district.
Rev Abel Morgan.
After the passing of the Toleration Act in 1689 the difficulties of worshipping lessened and in 1696 the election of a pastor was decided upon. The gentleman chosen was Rev Abel Morgan, an able and scholarly man and the gifted compiler of the first Welsh Concordance which later became the basis of Mr Peter Williams' Concordance. Rev Abel Morgan was invited to Blaenau Gwent in 1699 and came in 1700, he was the first resident Pastor at Blaenau Gwent until 1711 when he left for America. During the 22 week voyage he lost his wife and child, both were buried at sea. Rev Morgan went to Pennepack, Philadelphia, Pennsylvania and was connected with the Pennepack Baptist Chapel.
Rev William Phillips.
After the departure of Rev Abel Morgan, Rev William Phillips was elected to the pastorate, Mr John Harri was chosen to assist him. Up to this time meetings were still being held in houses or any other convenient places though it was now resolved to erect a proper place of worship. The fact that the pastor was a builder made the task less difficult.
The First Chapel.
In 1715 the chapel was constructed, members at this point numbered from 80 to 90. In this same year the wife of Mr Watcin Harri sadly passed away and was the first burial in the cemetery at Blaenau Gwent.
In 1717 a census was taken to ascertain the strength of Nonconformity in the country, the figures obtained for this district were as follows – In Aberystruth & Rhassar? County voters 123; Voters in boroughs 26; Farmers 98; Tradesmen 55; Miscellaneous workmen 246: These together with their families totalled about 1,000 members. Between 1724 and 1727 forty eight people were baptised.
Rev's John and Morgan Harri.
In 1729 Rev William Phillips resigned the pastorate, it was given to Rev John Harri, with Morgan Harri his son as his assistant. In 1729 the Baptist Chapel members at Blaenau Gwent totalled 170.
In 1741 the chapel membership continued to increase and membership was up to 210 made up as follows – Aberystruth 70; Bedwellty 71; Mynyddislwyn 18; Trefddin 12; Pontypool 13; Llanover 4; Goitre 2; Brynbiga 1; Glascoed 1; Llaniddal 7 and Llanwenarth 11:
Rev Edmund Watkins.
In 1747 Rev Edmund Watkins succeeded to the pastorate and in 1756 Mr Evan Harri was appointed to assist him.
In 1770 Rev Maurice Jones became a preacher with the chapel, he resigned the post in 1782 and Rev Evan Harri took over as pastor. The chapel began to decline from this point and Mr Thomas Moses of Penygarn was called in to assist Mr Harri.
In 1794 Rev Evan Harri passed away after being a member of the chapel for 50 years. The chapel roll was now 125 members.
Rev Joseph Price.
A while later Rev Joseph Price of Llanwenarth was the next pastor and he was succeeded by Mr Harri Harri (son of the old pastor Evan Harri) who in turn was followed by Rev William Thomas of Penymain in 1830.
The Schoolroom.
In 1830 Rev William Thomas started the first Chapel School at Blaenau Gwent. Prior to this school the only other one in the district was the school that had been established at St Iltydds Church in 1748 where there were 43 children being taught from the surrounding area, no other church school was recorded until Blaenau Gwent in 1830.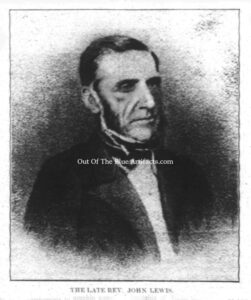 Rev John Lewis.
In 1837 the new pastor was Rev John Lewis of Brynmelyn, he lived at the Manse, Tyr-Bryn. It was said that he saw himself as an overseer of Gods creations, he awoke each morning at 4.00am to offer his mornings spiritual sacrifices like the priests in ancient temples.
The first members baptised by him were Mr Benjamin Williams and Miss Margaret Samuel, a sister of Mr Daniel Samuel, Mr Enoch Rogers was mentioned as being part of the chapel at this period in time. Rev Lewis was reported to not have missed a prayer meeting anywhere from Crumlin, Blaenavon, Cwm and Nantyglo. He said "to lose a meeting was to lose a blessing".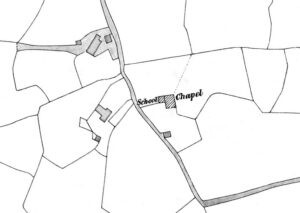 Chapel Rebuild of 1839.
In 1839 the chapel (as seen right) was rebuilt at a cost of £500. On this early map from 1840 can be seen the chapel and schoolroom (centre), The Crown Inn, Farm along side Cox's Cottage (upper left, the Crown Inn was later rebuilt closer to the road in its present position in 1901), and the Clyn Mawr Ganol (middle left) the home of Mr Edmund James Esq, landowner, (Grosvenor Home now Penybont Care Home). The road running (diagonally) was originally linking the 3 Clyn Mawr Farms, Isaf, Ganol and Uchaf which later lead to the Manse and Cwmtillery West Side and is now Portland Street, at the bottom of the map leading to the (right) is now Preston Street.
The Blaenau Gwent Baptist Chapel School.
The first Blaenau Gwent Chapel School was established in the vestry of the Blaenau Gwent Baptist Chapel in the year of 1840 and there were 14 scholars attending. There were two from Ty Sammy's, one from Green Meadow, two from Clynmawr, two from the middle Green Meadow, two from Blaenau Gwent, two from Blaentillery, one from the Gwrhyd and two from Gwastad Ffynonan. The next few paragraphs contains all the headmasters involved with the school
Mr Duggan.
The first master at the Blaenau Gwent Baptist Chapel School was Mr Duggan, a man with only one arm. His wages were 12s. per week and the money was collected by a Mr Joshua Davies a tailor, of Blaenau Gwent. Mr Joshua Davies was seen as a great educational enthusiast of his day. Mr Duggan taught the 14 children for two years and left the area.
Mr Andrew O'Benegan.
In 1843 Mr Andrew O'Benegan took over the teaching duties at the Blaenau Gwent Baptist Chapel School after the departure of Mr Duggan. Mr O'Benegan was a lawyer and the number of scholars increased to 20 under his tutorage. After three years at Blaenau Gwent, Mr O'Benegan was involved in an accident and suffered severe injuries causing him to leave his post as teacher.
Mr James Powell.
In 1846 Mr James Powell was the next master and took over at Blaenau Gwent Baptist Chapel School. During his time at Blaenau Gwent no new pupils enrolled and there seemed to be a general lack of interest. Mr Powell was the master until 1850.
Mr Thomas Bevan.
In 1850 Mr Thomas Bevan came to Blaenau Gwent and taught at the old vestry on a wage of 18s. per week. During this time many inhabitants felt it was time to secure better educational facilities for the children, a few got together and called on Rev W. Roberts (Nefyd) of Blaina for assistance. Mr Roberts was occupying an official position under the British School Society, he came to the assistance and formed a committee which was composed of the following gentlemen – Mr Watkin Rowland; Mr Phillip Mills; Mr Joseph Edmunds; Mr Joshua Davies; Mr Thomas Bevan; Mr William Prosser; Mr Edward Jones (Post Master); Mr William Harris; Mr Edmund Williams and Mr David Jones of Ty Sammy: The committee decided to build a new school and that it would be called the British School.
The Chapel Enlargement.
In 1880 the chapel was again slightly enlarged to cope with the population (as seen on the map below), the cost on this occasion being again £500. The following year 1881 Rev Lewis resigned after 45 years of service.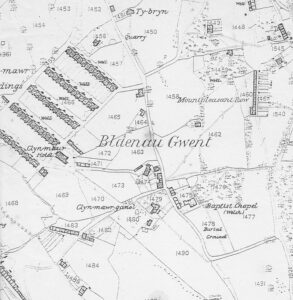 Rev Thomas Towy Evans.
In 1882 the pastorate of Blaenau Gwent Chapel was given to Mr Thomas Towy Evans, he took up residence at the Manse, Tyr Bryn. From the start he worked untiringly and to great effect.
Rev T. Towy Evans saw a chapel that was in need of change, as until 1882 all services at the chapel were conducted in the Welsh language but Rev Evans wanted to phase it out and gradually change the language from Welsh to English to accommodate the increasing English speaking population that came to the district to work in the many coal mines. His tact, patience and determination overcame the difficulties of this controversial change and in 1903 all services were conducted entirely in English. After this transition the chapel membership rose from 150 to nearly 600.
The Increased Accommodation.
In 1885 increased accommodation to the chapel was added and a larger schoolroom was erected.
The Blaenau Gwent Members Ledger.
Following is a Link to – Blaenau Gwent Members Ledger 1885 to 1920.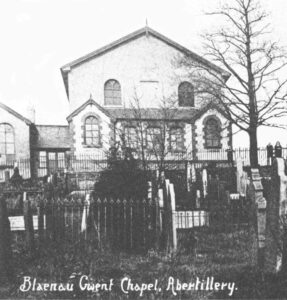 In July 1894 the committee at Blaenau Gwent wanted to rebuild the Blaenau Gwent Chapel and were receiving tenders from local builders for the construction. The following are the builders and tenders received – Messrs Gaen Bros £1,247. 0s. 0d.; Messrs J. Monks & Co of Crumlin £910. 0s. 0d.; Messrs Phillips & Hall £ 900. 0s. 0d. and Mr A. P. Williams £860. 0s. 0d.: The contract was given to Mr A. P. Williams for £860. 0s. 0d..
The Colliers Hall, Cwmtillery.
In the same year it was reported that the Blaenau Gwent Baptists had opened a new cause at the Colliers Hall, Cwmtillery. The services held by Rev T. Towy Evans were well attended and it was hoped to start a Sunday School at the same premises.
Towards the end of 1895 the chapel had been completely rebuilt and enlarged (as seen on the image above). It was also reported that a magnificent organ was placed in the building.
In 1901 even more alterations costing about £300 were carried out, though with the 1895 rebuild and recent alterations the chapel was still fairly small for a fast growing population.
Mr James Gunter.
In October 1901 there was a special presentation made to Mr James Gunter of Oak Street, Abertillery. Mr Gunter was honoured for his 38 years of service to the chapel in the position of choir master.
The New Church.
On Tuesday 30th April 1905 following the revival in the chapel members decided to have a much larger church erected adjacent to the old chapel and schoolrooms. (there is a consensus that the difference between a chapel and a church is – a chapel is a small place for Christian worship that may be attached to a schoolroom, a church is a much larger place of worship which is detached from any other building). No time was wasted and a "Ways and Means" committee, representative of the various branches of chapel activity was set up to consider the whole question. The pastor Rev T. Towy Evans was chairman, Mr G. Gunter was secretary and Mr W. Jones was treasurer. The idea was approved and it was decided to ask Mr Neander Gasenius Lewis, architect, who was a member, to prepare plans for the proposed new church.
The Contractor and Architect.
The contractors were Messrs Linton Bros Ltd of Newport, Mr William Augustus Linton (their story can be seen below). The architect was Mr N. Gasenius Lewis F.I.A.S. a member of the church. It was stated that the new building would cost approximately £4,200 – £5,000 and would accommodate 1,200 people.
Monday 22nd May 1905 the building work for the new addition to the church began. The ground work had been done voluntary by the members of the chapel.
Ceremony of the Laying of the Foundation Stones.
On Monday 10th July 1905 the ceremony of the laying of the Foundation Stones took place. There were too many stone layers and observers to write in this file. If anyone wants information on any particular person for family records I can provide names of individuals.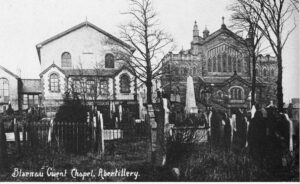 The New Church opening.
On Sunday 13th May 1906 the new church (as seen far right in the image left) was officially opened.
Description of the Building.
The building was of Gothic design, the front elevation was faced with pitched-faced shoddies and the whole of the dressings, windows, steps etc were of grey Forest of Dean stone. The chief features externally were seven light tracery windows with turrets right and left rising forty-five feet above ground level. Access was by means of four entrances into lobbies. The internal measurements of the church was 66′ feet 3″ inches by 51′ feet 4″ inches. It was stated that the new building would accommodate 1,200 people. The interior woodwork was of pitch-pine and the roof partly open and boarded.
The grave diggers cabin was placed at the lowest level with direct access to the grave yard. Within this cabin were the heating chambers.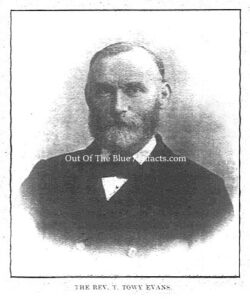 Mr Thomas Towy Evans 1854-1916.
Mr Thomas Towy Evans. Born at Carmarthen on March 20th 1852. At the age of eight years he started work in the Carmarthen Tin Plate Works. In 1877 he started to preach and entered upon a course of studies at the Preparatory School at Cardiff. In 1878 he entered the Baptist College at Pontypool. He was given the pastorate at Blaenau Gwent Chapel in 1882 after the resignation of Rev John Lewis in the previous year.
In that same year Mr Towy Evans married Miss Mary James of Carmarthen. They had three sons – Lieutenant Myrddyn Evans B.A.; Master Tegfryn Evans who was a pupil at the Intermediate School Abertillery and Cadet Towy Evans B.A. a certified teacher under the Abertillery Education Committee and two daughters – Miss Eva Evans B.A. at Derby and Miss May Evans, a student at Aberystwyth Training College:
In 1913 Rev T. Towy Evans became an active member of the Aberystruth School Board and in 1916 had become the head when he beat fourteen candidates with a majority of 1,131 votes. Mr Thomas Towy Evans sadly died at his residence the Manse at Tyr Bryn August 13th 1916 his obituary was reported and published on two and a quarter pages in the South Wales Gazette.
Mr John Davies 1844-1923.
Mr John Davies 28 Victoria Street, one of the most well known inhabitants of Blaenau Gwent. He was the eldest son of Mr Joshua Davies. His father Mr Joshua Davies was a tailor by trade based at Blaenau Gwent, who was one of the pioneers of education in the town and one of the founders of the British School. As a young man he worked underground and later became a colliery overman at the Cwmtillery Collieries. On January 18th 1868 he married Anna Crowder from Newport. He later became a contractor under the South Wales Colliery Company, in his capacity as a contractor he excavated the ground for the Cock n Chick School, Cwmtillery, to be built. Afterwards went to work at the Rose Heyworth Colliery.
Later he was the licensee of the Royal Exchange Public House, Blaenau Gwent. He was a member of the Ancient Order of the Foresters. In 1904 he became the Schools Attendance Officer, was also a member of the first Technical Instruction Committee. In later life he was the senior deacon of Blaenau Gwent Baptist Church and was also the president of the Abertillery Sunday School Union.
At his time of death in 1923 his wife Anna and his 4 children survived him – His children – Mr John W. Davies who worked as an official under the Ebbw Vale Co; Mr Fred M. Davies; Mr T. H. Davies an Overman at the Rose Heyworth Colliery and Miss Esther Jane Davies a teacher at the Blaenau Gwent Infants School:
Mr Joshua Davies Jnr 1855-1930.
Mr Joshua Davies Jnr, brother to Mr John Davies. Born at Abertillery in 1855. Mr Joshua Davies attended school with Rev Fuller Mills, a Baptist Minister and later Mayor of Carmarthen. Upon leaving school at an early age Mr Davies stated work in the local collieries and worked as a miner for 63 years including twenty-five years as an official at the Vivian Colliery, Abertillery and was also a Sunday School teacher at the church. His son was Mr Howell J. Davies, Manager of the Rose Heyworth Colliery, Abertillery. Mr Davies lived at 24 Victoria Street, Blaenau Gwent, Abertillery and passed away in February 1930 at the age of seventy-five.
The Later Years.
In the 1980's the the Blaenau Gwent Baptist Church was deemed unfit for purpose as it was reported it suffered from a type of wood rot. The church, old chapel and schoolroom buildings were demolished and a new much smaller compact church was built. The new church was erected closer to the road and is built on the exact site as the original chapel that was built way back in the early 1700's. The site of the 1906 church building is now occupied by Corban Court, a housing complex.
Notes of Interest – Rev William Roberts (Nefydd).
Rev William Roberts (Nefydd).
Reverend William Roberts was born in 1813 at Bryngoleu, Llanefydd, Denbighshire, the son of Mr and Mrs Robert and Anne Roberts. At a young age William Roberts took after his father and became a shoemaker at Denbighshire, though in 1834 he moved to Liverpool and began to preach. In 1837 he became a minister and was ordained at the Welsh Baptist Church at Stanhope Street, Liverpool.
Mrs Jane Roberts.
While at Liverpool he met his wife Mrs Jane Roberts nee Jones, daughter of Rev Daniel Jones a minister at Liverpool. The couple had a daughter Miss Elizabeth Jane Roberts, born in about 1845. Soon after the family moved to Blaina, Monmouthshire and Rev William Roberts served as a preacher at the Salem Baptist Church, Blaina.
The Death of Mrs Jane Roberts.
Not long after settling at Blaina, Mrs Jane Roberts sadly passed away.
Mrs Mary Edwards.
In the late 1840's Rev William Roberts met Mary Edwards, the widow of Mr Jenkin Edwards. They were married soon after.
Rev William Roberts at Blaina.
On the 1851 census Rev William Roberts his wife Mary and family were living at an address somewhere between Henwain Row and the Tilers Arms at Blaina. It was reported that Rev William Roberts was a preacher, author, eisteddfodwr, printer, publisher, educationalist and collector of rare books. Reverend Roberts was also agent for the British and Foreign Schools and was also the first to conduct night schools at Blaina and in the 1850's was chairman of the Blaina Instruction Society.
Rev William Roberts Printing Business.
In 1864 he set up his own printing press at Blaina and it was stated it was one of, if not the first of its kind in Monmouthshire. For four years he published "Y Bedyddiwr" The Baptist.
On the 1871 census Rev William Roberts was living at No1. Roberts Row, Blaina, was described as a Baptist Minister. His wife Mary was not listed, though living with him were the following – Mr William Rawley Roberts, son, aged 18 and was listed as a Private Compositor (one who arranges type for printing). Mr Robert Henry Roberts, son, aged 16 and listed as a Stationer and Printer. Miss Elizabeth Jane Roberts, a daughter, aged 26 and Mr Roberts sister Mrs Anne Davies aged 56. Also at the same address was Miss Leah Rees, a servant girl aged 43, from Blaina.
The Death of Rev William Roberts.
On 18th June 1872 Rev William Roberts passed away. It had been arranged for Mr Roberts to be buried at Blaenau Gwent Baptist Chapel graveyard. It was later planned to acquire funding from the Newport Eisteddfod for a monument in his honour to be erected upon his grave.
Nefydd Cottage, Blaina.
At the time of Rev William Roberts death he lived at Nefydd Cottage. The sale report stated the cottage was a half-a-mile from Blaina Station on the side of the road leading from Blaina to Abertillery. The cottage was said to have been built in 1860 and its land area was measured at 1,030 square yards.
The Rev William Roberts Monument and Memorial.
On Monday 30th October 1876 the monument which had been funded by the Newport Eisteddfod from money given in 1873 was unveiled at Blaenau Gwent Baptist Chapel. It was arranged to have the Right Hon Lady Llanover perform the unveiling though she was unable to attend. The unveiling was presided over by Rev Jno. Griffiths, the rector of Neath. Amongst those who witnessed the proceedings were as follows – Mr Benjamin Evans of Newport; Rev Llewellyn Jones of Abertillery; Rev D. Bevan Jones of Caerleon; Rev J. Williams of Brynmawr; Rev M. James of Brynmawr; Rev J. Lewis of Risca and Rev W. R. Richards of Machen: Mr Jones of Blaina; Dr Rees of Swansea and Lewis Evans; Mr H. Russell Evans; Mr Benjamin Lewis; Mr Thomas Evans of Blaina; Mr T. L. Davies; Mr J. Morgan of Aberystwith; Mr L. Richards of Abertillery:
The train arrived from Newport at mid-day and a large number of people gathered to form a procession through town and up to the Baptist Chapel at Blaenau Gwent. The monument in the form of an obelisk was sculptured in Forest of Dean stone, executed by Mr Winter the monumental mason of Newport. At the unveiling Rev John Lewis opened the proceedings with a prayer, after which Rev Jno. Griffiths unveiled the monument.
The monument had upon it an inscription in English and Welsh – "Adgof uwch anghof – This monument, from the proceeds of the Newport Eisteddfod 1873 is erected to the memory of Rev William Roberts LL.D., born March 8th 1813 at Llanefydd in the county of Denbigh; Died June 18th 1872 at Blaenau. He was highly esteemed as an able and earnest preacher of the Gospel and ministered as pastor of the Church at Salem for a period of 26 years. Being thoroughly conversant with the literature of his country he distinguished himself as a ripe Welsh scholar and writer of works of antiquarian importance. An ardent promoter of education he laboured hard and successfully for many years as inspector under the British and Foreign School Society. In all the relationships of life, domestic, social and public, his sincerity of heart, amiability of disposition and Christian integrity, made him universally beloved, admired and respected."
Nantyglo Secondary School.
In October 1934 Capt Evan Silk the headteacher at the Nantyglo Secondary School received an inscribed photograph of Rev William Roberts (Nefydd) as a gift to the school library. The donor was Mr Caleb Lewis of Glanyravon, Abertillery Road, Blaina, whose late wife Mrs Elizabeth Jane Lewis nee Roberts was the daughter of Rev William Roberts.
The Linton Family.
John and Sarah Linton.
Mr John Linton was born in 1796 in Thorn Falton, Somerset, England. His wife Mrs Sarah Linton was born in 1806 at Somerset, England. Their family consisted of Miss Jane Linton, born in 1826; Master Thomas Linton, born in 1832; Miss Mary Linton, born in 1835; Miss Anna Linton, born in 1837; Master Edwin Linton, born in 1839 and Master John Linton born in 1841: The father John Linton was a carpenter by trade and the family later moved to St Woolos, Newport.
The Linton Bros Building Company.
While at St Woolos, Newport, two of the sons Mr John Linton and his brother Mr Thomas Linton formed a building company called the Linton Bros. Mr Thomas Linton was later foreman at the company. They became one of the largest building contractors in Newport and they were responsible for the construction of many buildings in the town and district.
Mr John Linton.
Mr John Linton Jnr was born in 1841 at Creech St Michael, Taunton, Somerset. Mr John Linton was the head of the building company. He married Miss Sarah Reynolds and later lived at 3 Stow Park Circus, Newport. They had a son Master Maples Linton, born 1875 who became an architect and a daughter Miss Beatrice Linton, born 1894. Mr John Linton became a magistrate and councillor for Newport, he passed away in May 1903 at his home The Woodlands, Stow Park Circus, Newport.
Mr Thomas Linton.
Mr Thomas Linton was born in 1832 at Creech St Michael, Taunton, Somerset. He later married Miss Mary Ellen and lived at Christchurch, Newport. Their family consisted of the following – Master William Augustus Linton (Builder); born 1859; Master Edwin George Linton, born 1861; Master John Linton, born 1864; Miss Sarah Ann Linton, born 1866; Master Thomas Benjamin Linton, born 1870; Master David Charles Linton, born 1873; Miss Jane Linton, born 1875 and Master Albert Edward Linton, born 1877: Mr Thomas Linton Snr was a building contractor and licensee, he held the licence to the Ivy Bush Inn, Clarence Place, Christchurch, Newport for over 30 years. Mr Thomas Linton passed away in December 1908 at his home Netherton Villa, Chepstow Road. He left £5,919 in his will.
The Children of Thomas and Mary Ellen Linton.
Mr William Augustus Linton.
Mr William Augustus Linton was born in 1859 at Newport, Monmouthshire. Was a building contractor, and may have may have been in the engineering company with his brother John Linton. In 1887 he married Miss Sarah Elizabeth Wright. Mr William A. Linton constructed the new Blaenau Gwent Church, Abertillery in 1905-1906. He later became an Alderman, Justice of the Peace and later Mayor of Newport during 1920-1921.
Mr Edwin George Linton.
Mr Edwin George Linton was born in 1861 at Newport Monmouthshire. Mr Edwin George Linton was a coach builder by trade. On the 1911 census he was living with his sister-in-law at 28 Marlborough Road, Newport and was listed as an aeroplane constructor.
Mr John Linton.
Mr John Linton was born in 1864 at Newport, Monmouthshire. In 1885 he married Miss Sarah Emma Reynolds. Mr John Linton founded the Linton Bros Engineering Company. He was later Pastmaster of the Albert Edward Prince of Wales Lodge of Freemasons and of the Keystone Lodge of Mark Masons and registrar of Marks. In 1934 he became First Principal of St Woolos Royal Arch Chapter. Mr Linton died in 1939 at his residence at 15 Queens Hill, Newport. Mr Linton left £11,707 gross, £6,254 net in his will.
The Company.
According to the newspapers in 1903 the company was names John Linton & Co Limited, after the death of Mr John Linton the company was known as Linton & Co. 
The Linton family contractors in one form or another were responsible for constructing many outstanding buildings in the district including – 1879 the Nantcoch House, a mansion on Risca Road, Newport. 1884 the Newport Town Hall, the new Westgate Hotel and the new County Police Station and Magistrates Courts, Newport. 1887 the Newport Market and in 1888 St Marks Church and School House and School, Newport and many more.