Messrs Joseph and Falkman Furniture Dealers.
Mr Joseph Falkman was a Russian Jew, originally trading in furniture in South Africa, though he left there for England sometime between 1890-1894 with savings amounting to £300. While residing in England he met Annie Falkman nee Joseph, born in 1873 at Birmingham, England. The couple moved onto Port Talbot, South Wales and had a son Master Lionel Falkman and a daughter Miss Leah Falkman.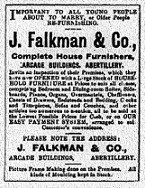 Mr Falkman at Abertillery.
In 1899 the family came to Abertillery and Mr Joseph Falkman purchased a furniture business in the arcade (as seen in the ad left) from Mr T. J. Buckley for the sum of £95, for which he paid for in gold. He set up and renamed the shop as J. Falkman & Co and his business started from there.
In April 1900 Mr Falkman had a steel corrugated shed built in Hill St, Abertillery, to be used as a storage unit for his furniture stock.
In May 1901 there was a fire at his storage premises which resulted in the loss of his entire stock, though reports state the fire was in Chapel St?
In May 1902 he had a new storage unit built at Carlyle St, Abertillery.
Train Fares Enticement.
In 1902 an advert for J. Falkman & Co offered train fares to his countryside buyers. Many people mistakenly think that only the Bon Marche and the Pontlottyn stores offered free train fares to their buying customers though in reality quite a few of the smaller stores offered this enticement and surprisingly earlier than their larger counterparts.

In January 1904 Mr J. Falkman went bankrupt owing to great losses and previous fire damage to his stock in Chapel St. His creditors took him to court over the non re-payments, the court case lasted for a few weeks. It transpired that Mr J. Falkman had sold his business in the meantime to his brother-in-law Mr Nathan Joseph for the sum of £298 cash. He was found guilty of all charges in court and sent to prison for four months. At this time Mr and Mrs Falkman lived at 73 Princess Street, Abertillery.
Messrs Barnett Joseph, Solomon Hyman and Annie Falkman.
Sometime in 1907 Mr Joseph Falkman entered into a partnership with Mr Barnett Joseph and had acquired a premises at Market St Abertillery and was selling furniture from there. Mr Soloman Hyman and Annie Falkman were also in a partnership with Mr Joseph Falkman, the company was known as Messrs Joseph & Falkman.
In September 1911 Mr Joseph Falkman's partnership with Mr Barnett Joseph, Solomon Hyman and Annie Falkman of Market St was officially dissolved though the company remained as Messrs Joseph & Falkman.
Mr Lionel Falkman.
Mr and Mrs Joseph and Annie's son Lionel Falkman, learnt the violin an an early age, became a very accomplished musician, he went on to become a famous violinist and in 1912 toured with Madame Pavlova and Mons Novikoff and members of the Imperial Russian Ballet.
Link to – The Lionel Falkman Story
The Death of Mr Joseph Falkman.
In August 1914 Mr Joseph Falkman passed away.
Miss L. Falkman.
In 1924 Messrs Joseph & Falkmans were trading from 18 Market St and had a clearance sale before moving to their new shop in 17 Church St Abertillery. The business at this time was being run by Miss L. Falkman.
On Friday 21st July 1933 Messrs Joseph & Falkmans opened a new showroom at 29 Commercial Rd Llanhilleth, on a temporary basis. These new showrooms were closed on August 4th 1933, they also moved or extended into 19 Church St, Abertillery at this point.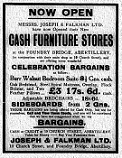 In March 1934 Messrs Joseph & Falkmans announced their new shop to be opened on the Foundry Bridge, it was to run in conjunction with their other shop at 19 Church St Abertillery.
April 12th 1935 Messrs Joseph & Falkmans had a telephone installed at their shop in Abertillery. Telephone No – 60.
Park Place Showrooms.
January 1936, they opened a new showroom at 1a Park Place, Abertillery.
Later Joseph & Falkman had their premises in the Trinity Buildings, Church Street. After the Falkman era it was occupied by a few retailers over the years, such as Weaver to Wearers, Carpet Forum etc. The Trinity Building was recently renovated and there were plans for it to be turned into a Social Supermarket, though the building is still unoccupied.