ALBUM……. On The Third Day.
Label/No……. Warner Bros K-56021.
Pressed in……. United Kingdom.
SIDE 1
Ocean Breakup, King Of The Universe.
Bluebird Is Dead.
Oh No Not Susan.
New World Rising, Ocean Breakup (Reprise).
SIDE 2
Daybreaker.
Ma Ma Ma Belle.
Dreaming Of 4000*.
In The Hall Of The Mountain King.
Notes……. *The track "Dreaming Of 4000" is printed on the back cover but the label states it's as being "I'm Only Dreaming".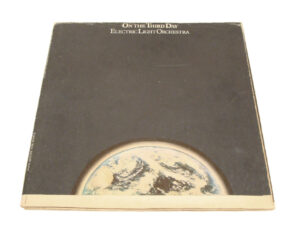 Warner Bros original tri-fold sleeve design (as seen left) which was slightly larger and without the die-cut front cover showing Jeff Lynne's face. The link below takes you to the page showing the cover details.
Link to – On The Third Day Test Design Sample Cover