William Williams & Co – Nantyglo Iron Works 1811.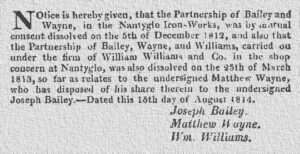 Mr William Williams was partner with Mr Matthew Wayne and Mr Joseph Bailey Esq at Nantyglo Iron Works in the early 1800s. Their partnership was known as William Williams & Co and was a Company Shop business when the Nantyglo Ironworks were in its infancy. Their partnership was dissolved in 1813. 
Messrs Joseph Bailey and Matthew Wayne were also partners in the Iron Works. Their partnership was dissolved in 1812 which later led to Mr Crawshay Bailey becoming partner with his elder brother Joseph Bailey and forming Messrs J. & C. Bailey. 
Link to – The Nantyglo Iron Works History
The Company Token is 27mm in diameter. Made from Copper.
It has the wording "Wm Williams & Co Nantyglo 1811" on the obverse with "No754 Deliver the Bearer Shop Goods Value 1d" on the reverse.